Quality Sheds at an Affordable Price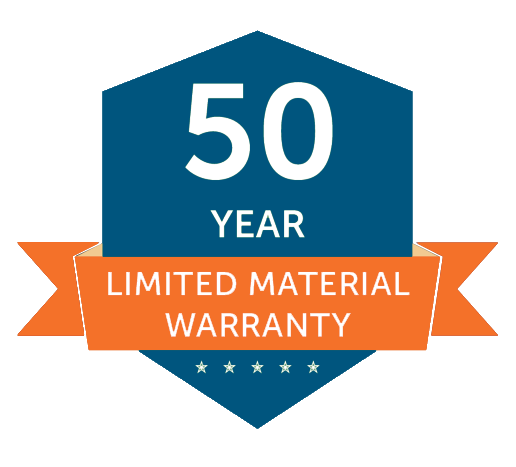 As a custom shed builder in Grand Bend we build high quality sheds to meet your specific needs. Whether its storage sheds, garden sheds, gazebos or pool cabanas, our handcrafted structures are affordably priced and built to last.
Custom Sheds Design Your Way!
Affordable Sheds offers a wide range of choices to make your shed uniquely yours. Begin by choosing the size, shape, and style of your new shed. We can add extra doors and windows for easier access and lots of natural light. Colour and accents such as window boxes, porch overhang, railing, shutters, or a roof-top vent with a weathervane can be added to fit your personal style. As a family owned and operated shed company, we are proud to be a trusted builder of custom sheds in Grand Bend, Goderich and Stratford.
Types of Sheds, Grand Bend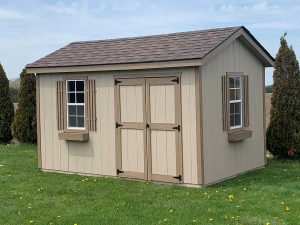 Storage Shed, Grand Bend
The storage sheds we build are made of high quality materials and are practical and affordable. These sheds are available in various styles and sizes.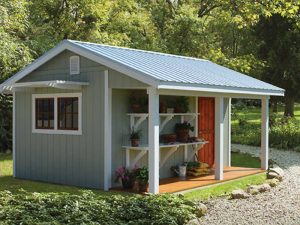 Garden Shed, Goderich
Our garden sheds are modern looking and customized with doors and windows where you need them. The options for garden sheds are endless.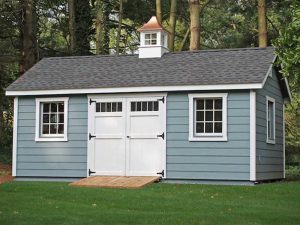 Work Space Shed, Grand Bend
Our work space sheds are built to a higher standard so  that they may be used for whatever work projects you have in mind.  Can be fully insulated for additional comfort.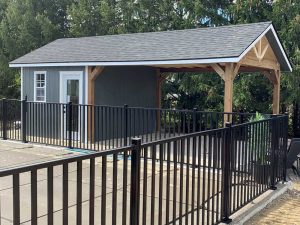 Pool Shed, Stratford
For pool sheds we use materials that withstand moisture and water exposure.  Our pool sheds are functional and attractive, designed to suit your personal style.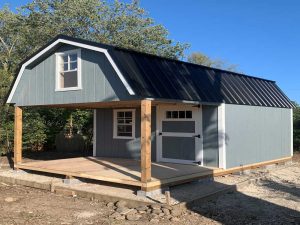 Mini Barn, Grand Bend
We build affordable mini barns to meet your specific needs.  Our craftsmen are committed to using quality construction methods and materials to ensure your barn will be long lasting.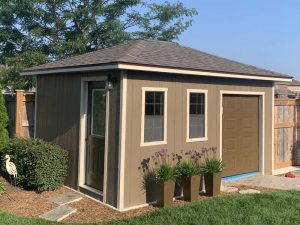 Hobby Shed, Grand Bend
Hobby sheds can be personalized for hobbies like crafts, art and writing.  We also build she-sheds and mancaves for backyard retreats. Our hobby sheds will add value to your property.

View Our Gallery To See More Shed Styles
Custom Shed Choices
Size: a small patio lean-to, a grand pool house, a mini garage, or a small barn. Create as much space as you need
Shape: standard rectangular shed, five-sided corner units, octagon gazebo
Use: storage shed, workshop or hobby space, studio, backyard office or small business, pool house, animal shelter, outdoor living, or entertainment
Finishing material: standard vinyl siding, shiplap planks, cedar shakes, an many more
Colour: choose any colour of the rainbow to match your style and property, with coordinating trims
Floors: we can build on your existing concrete pad or construct a wood floor. Add ceramic tile, carpet, or linoleum
Doors: single doors, double doors, rollup doors, Dutch doors, or any custom door installation. Add multiple doors to suit your needs
Windows: choose the number and style of windows for light and air flow. Add a skylight for increased interior lighting
Accessories: shutters, window boxes, gingerbread or specialty trim, door ramps or steps, railings, a front porch or extra large overhang
Service Area
As a custom shed builder in Grand Bend we also service the Stratford and Goderich Ontario regions.  Call us for a free quote for your outdoor structure.  When you choose us, you choose quality, no matter the style or material you select for your shed. Whether you need more storage space, a workshop or studio, or a home for your animals, we can custom design and build to your exact needs.