Your Space For Your Work
At Affordable Sheds, we understand that sometimes you need a separate space to do your work. If you need to do work that is noisy, stinky, dirty, or messy, building a separate workshop can be an affordable solution that keeps everyone happy. Or maybe you need a private workspace outside the home that is quiet and free from distracting interruptions.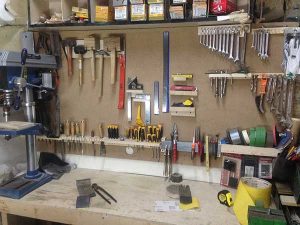 Woodworking, Welding, Car Restoration and more
Certain types of work need to be performed in a space dedicated to the job. This is the space where you can do work that might cause excessive noise, unwanted odours, or unattractive mess. We can create a custom work shed design that suits your needs. Choose the type, number and style of doors and windows to be able to do your work effectively. Create extra space for storing your tools and equipment. Add insulation for noise reduction or warmth.
Backyard Office or Studio
Running a home-based business doesn't have to be intrusive on your personal life. Separate work and home life with an office space that you can leave at the end of the day. Being out of the house has additional advantages – privacy, quiet, and fewer interruptions allowing you to concentrate on your work. Spark your creativity with a unique space for your art or photography studio. Additional windows for natural light, and high-quality insulation can make your work space warm, inviting and
productive.
Woodworking
Welding
Car restoration
Art Studio
Office space
Music studio / recording space
Hobby / craftwork
No matter the type of workspace you need, Affordable Sheds can design the right solution for you. Your work shed or studio will be an attractive addition that blends into your existing landscape and matches the style of your home. Our experienced craftsmen use only the highest quality materials, and will treat you and your property with respect. Limited 50-year warranty on some materials.
See some of our other styles and possibilities for your Office / Work Shed