Make Your Home Outside
With so many people choosing to stay home for vacation, Affordable Sheds can create the perfect outdoor living shelter or storage space for your backyard escape. Your new shed can serve a dual purpose – a backyard shelter that you can open and enjoy during warm weather, or close it up and use it to store outdoor furniture and equipment during the off-season months. Our team of experienced builders can design and construct exactly what you need to enhance your lifestyle.
Whether you're simply enjoying the quiet privacy of your backyard, entertaining guests, or having  party, an outdoor living shed can create the environment you need to live the way you want. Fully enjoy your yard and property by taking advantage of your outdoor space with a unique outdoor building.
Gazebos and pavilions
Pool house or cabana
Chidren's playhouse
Tiki bar, party room
Screened patio shelter
Mini Guesthouse
Storage shed with porch
Man cave / She-shed
Spa / sauna
Free-standing sunroom
Change room / relax room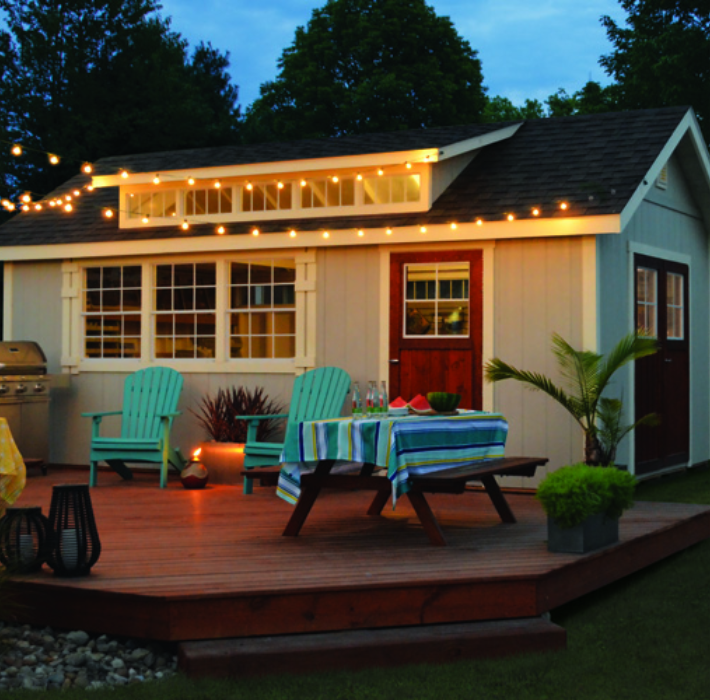 Affordable Sheds will design your new outdoor building with your budget in mind. You'll be able to choose the size, style, and colour of your shed as well as the number of windows and door style. We use only the highest quality materials for increased durability. Your shed will be able to withstand the harsh extremes of our Ontario weather. Through the heat and humidity of summer and the bitter cold, snow, and ice, your shed will look good for many years to come. Our experienced team of craftsmen will treat you and your property with respect as they construct a shed that you will meet your complete satisfaction. Limited 50-year warranty on some materials.
See some of our other styles and possibilities for your Outdoor Living Space